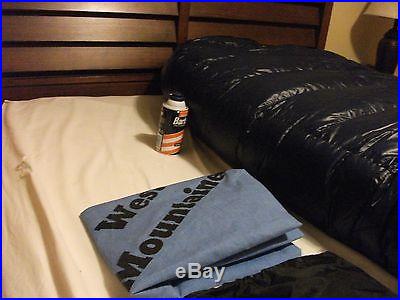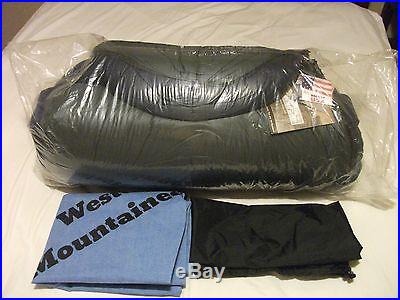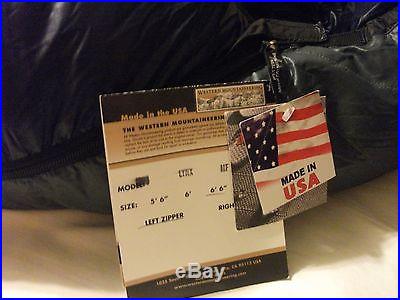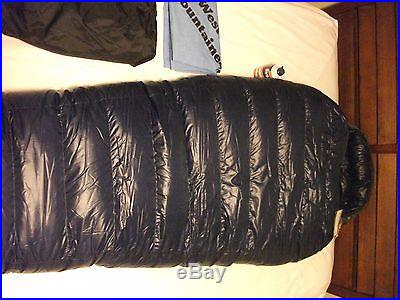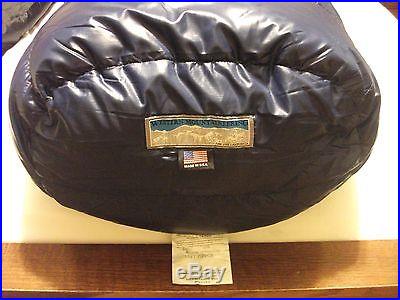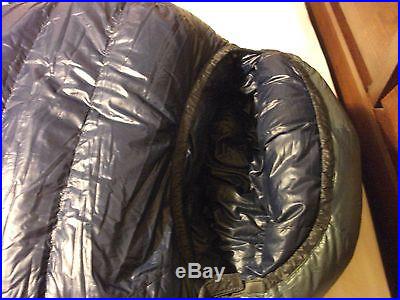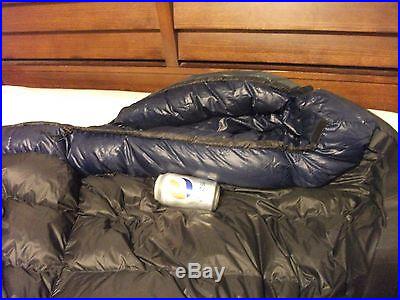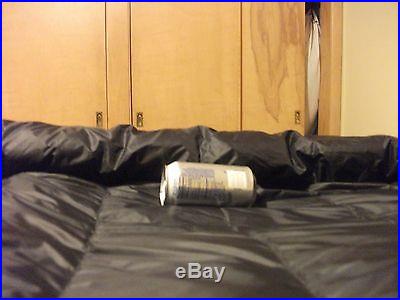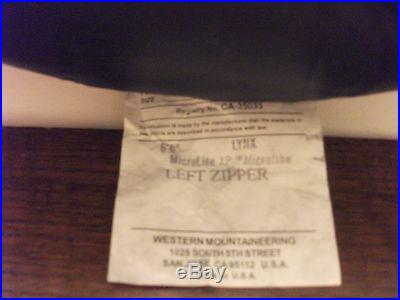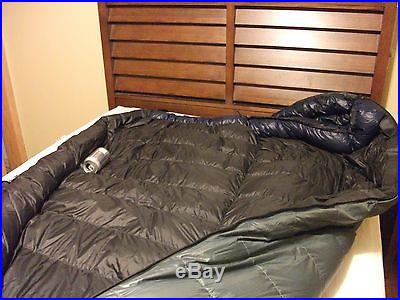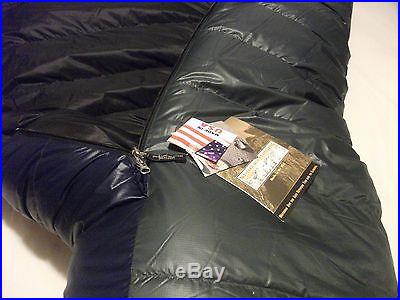 A great gift for yourself or the camper you love! Get this before western mountaineering raises their prices again in january.
Down costs have been skyrocketing and this bag will come in close to 1 thousand dollars after the next price hike. You are looking at a brand new western mountaineering lynx sleeping bag, made in the usa.
This is the version with the microfiber shell material. Search around on the internet and read from experienced users why the microfiber is better than the dryloft/windstopper material for cold weather use (hint: moisture from your perspiration is more detrimental than moisture from the atmosphere). This bag has never been stuffed in its stuff sack. The bag is rated for -10 degrees f, 850+goose down filled. The bag is lightweight, lofts enormously, and is wm's warmest non-expedition bag.
If you look at the specs closely though you will see that the loft is only a smidge off from the puma even though the puma is rated to -25f. The other difference with the puma is that the puma has an interlocking draft tube. Nonetheless, i'm not sure how an extra half inch of loft and locking draft tubes are enough to boost the rating an additional 15 degrees.
I simply suspect that -10f is a bit conservative for the lynx and it is more like -15f. I know that users in northern minnesota have raved about this bag on the backpackinglight forums as well as other backpacking/climbing forums.
The simple answer is that i'm a fatty : this bag has a 63 inch shoulder girth which is actually perfect for me. The problem is that the 55 inch hip girth is a bit tight on me. I have large quads and glutes and relatively wide hips for a dude (i weigh 230). The bag is comfy in mummy position but when i hike a leg up and turn on my side it is slightly tight for my liking.
For this reason, and because i'm a freakishly cold sleeper i'm stepping up to the puma which has 2 extra inches of girth for me. So why did i wait so long before deciding not to keep this? Easy answer – this bag is easily the nicest wm bag i've handled and i've handled at least 3 dozen.
Lately wm has been using stinky down in some bags. I've called them about it and simply been told our factory is dusty – it'll probably wash out if you want to get rid of it. With the few stinky (wet down smell) bags i've seen recently the down is still super high quality, highly lofting but it just had an off smell. Enough to make you think why does this brand new bag smell. Well this bag has literally no discernable down smell and just oozes quality that i've not seen as much lately with wm. The filling is just really well executed and i fell in love with the bag when i pulled it out of it's package. The loft is so luxurious. See the barbasol and pepsi cans in the photos to get a sense of the loft. The thing feels like a cloud when you are in it. I wish to heaven that the cut on this bag was similar to the alpinlite because i'd be keeping it then. Instead i'm risking it with the puma and hoping i get one that doesn't smell. It is 6'6 with left zip. I would never get a 6ft wm bag if i were 510 or taller. 3 lb 2 oz. 3 lb 5 oz.The item "Western Mountaineering Lynx -10F Sleeping Bag 6'6 left zip New w/ Tags" is in sale since Wednesday, November 26, 2014. This item is in the category "Sporting Goods\Outdoor Sports\Camping & Hiking\Sleeping Gear\Sleeping Bags". The seller is "jedgar98″ and is located in Madison, Wisconsin. This item can be shipped to United States.
Season: Cold Weather (+10F & below)
Brand: Western Mountaineering
Model: Lynx
Country/Region of Manufacture: United States